suddenly 2day rsa seyesly outta

my body , like my soul yg jln2 .
huhh ~ tmrw dh nk amek result , that's y la rsa seyesly like this .
it's jus feel makes me wanna fly , but i've no wings hahah
mcm mna mao fly nihhh ~
dehh .
the worth never be easier !
so now this is my mood - crawl by Criss Brown
credits to sis Najah : remind me of Criss Brown
yeahhh ~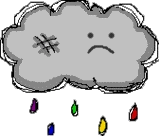 glitter-graphics.com
I'm Quiet Alone n wanna be Alone
Crawl -Criss Brown
Everybody see's it's you
the one that lost the view
Everybody says we're through
I hope you haven't said it too
With all this fear in our eyes
We can still touch the sky
Until we're strong enough to jump
So lets crawl, crawl, crawl
Why did I change the pace
Hearts were never meant to race
I always felt the need for space
But now I can't reach your face
Are you in the crowd of my faults
Love, can you see my hand?
Then we'll run (then we'll run)
Until we're strong enough to jump
So lets crawl, crawl, crawl
Well I never wanna lose that view
So we'll crawl (if we crawl)
Until we're strong enough to jump
So lets crawl, crawl, crawl
Till we can walk again (till we can walk again)
Then we'll run (we'll run)
Until we're strong enough to jump (until we're strong enough to jump)
Then we'll fly (then we'll fly)
So let's crawl, let's crawl, lets crawl